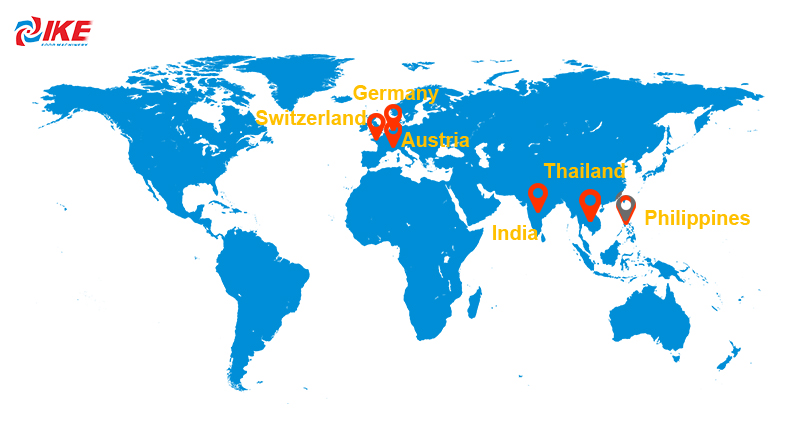 Warmly celebrate the establishment of IKE Food Processing Machinery Company's product exhibition halls and service stations in the Philippines and Thailand; the Philippines and Thailand product exhibition halls and service stations are IKE's fifth and sixth place after opening four overseas service stations in Switzerland, Germany, Austria, and India An important overseas service station.
It took half a year from the establishment of the proposal to the successful establishment of the site. In order to better serve our customers in the Philippines and Thailand, we have undergone very rigorous evaluations from address selection to staffing, and strive to do more perfectly.
These two sites are equipped with product exhibition halls, sales personnel, and technical personnel, who can learn about our mechanical functions, technology, and other product information on the spot.The services of the site can cover many countries in Southeast Asia and can provide food processing solutions, food machinery, and technical guidance for surrounding farms, orchards, and food processing plants. The Philippines and Thailand are located in Southeast Asia and belong to tropical regions. They are rich in tropical fruits and vegetables such as mangoes, bananas, avocados, and kiwis. The global export volume of fruits and vegetables accounts for a very large proportion, and a large number of powerful and technologically advanced food processing machinery is required to process fruits and vegetables.
In response to customer needs, IKE food processing machinery has developed powerful food machineries such as fruit and vegetable washing machines, vegetable and fruit peeling machines, food cutting machines, food dryers, and food packaging machines. All machines can be functionally integrated and connected according to customer needs and are designed as a highly automated and intelligent food production line. So far, it has provided food factories with vegetable cutting-cleaning-dehydration-packaging production lines, fruit cleaning-dehydration-particle size classification-packaging production lines, spice cleaning-drying-powder-packaging production lines, medicinal materials cleaning-cutting-drying-packaging production lines, etc. Thousands of successful food processing solutions.
At the same time, it has accumulated a large number of food processing materials such as food processing renderings, food processing parameters, and food processing technology. Customers can visit the website or contact us to obtain the required information.