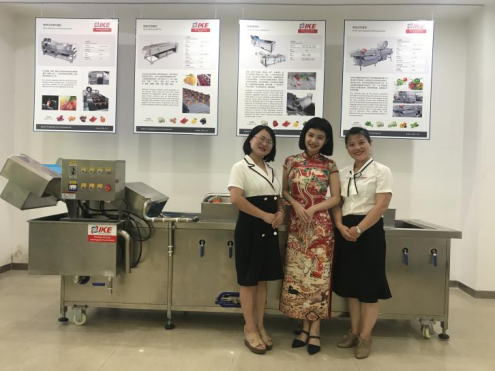 We had a Large-scale live show this month, we made a detailed introduce about the development of IKE GROUP, our workshops, showroom, food washing machine(Including: leafy vegetable washing machine, fruit and vegetable ultrasonic cleaning machine, carrot and potato washing and peeling machine, fruit brush polishing and cleaning machine), fruit and melon peeling machine (including: fruit and apple peeling machine, melon and pumpkin peeling machine, Orange peeling machine) fruit and vegetable cutting machine (including: fruit and vegetable slicer, fruit cutter, vegetable shredding machine), food dryer (including: closed loop technology dryer, low temperature, medium temperature and high temperature adjustable food dryer, low energy Consumption fruit dryer, vegetable dryer, meat dryer, fish and seafood dryer), food packaging machine (including: supermarket fruit and vegetable packaging machine, food vacuum packaging machine, meat packaging machine, liquid packaging machine, Powder packaging machine).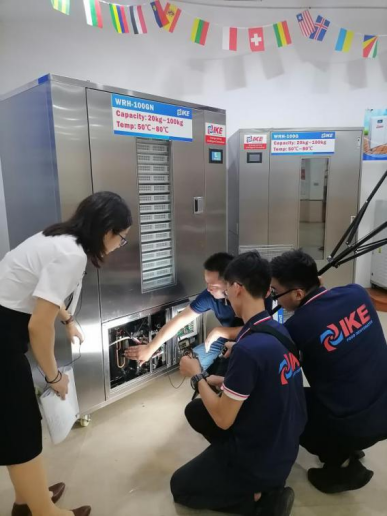 We invited our CTO Mr Chan to share the inner structure of our machines and our technical theory, to answer the questions on the technical points from our clients For example: "The working principle of vegetable washing machine", "What is the difference between bubble vegetable washing and potato washing and peeling machine?", "What are the advantages of closed-loop technology food dryer?", "Working principle of heat pump fruit and vegetable dryer" , "How does the IKE food dryer reduce energy consumption?", "What should I pay attention to in the fruit and vegetable meat drying process?" and other technical doubts on various food processing machinery ,so as to let our clients learn more about our technical core.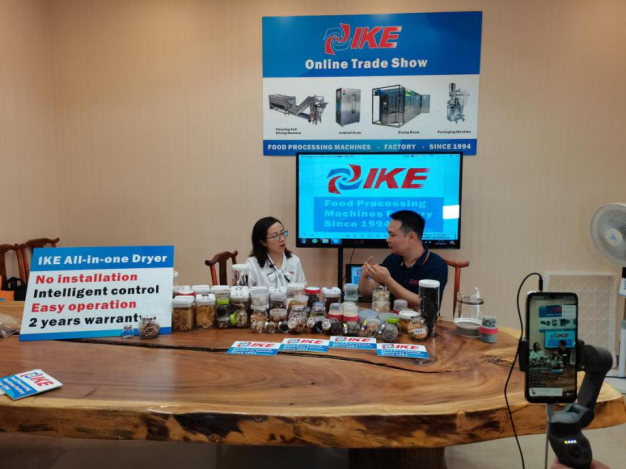 During the live show, the sales manager and CTO answered various kinds of the processing questions, we also have many coupons which attracted many clients' inquiry and admiration.