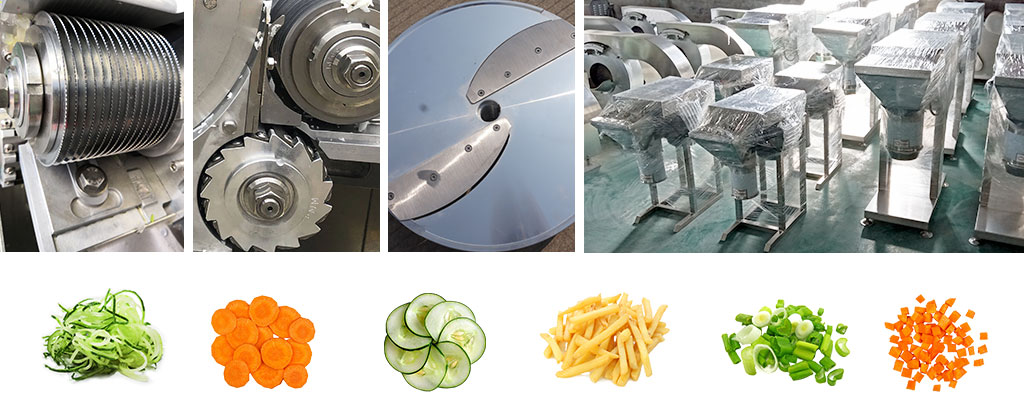 IKE Food Cutting Machine, especially for cutting fruit and vegetables. IKE fruit and vegetable cutting machines are available in a variety of models and can automatic cut almost any fruit and vegetable into many different shapes, including: slices, strips, cubes, squares, trails, and grating. Different cut thicknesses and lengths are available to meet your specific requirements.
The most important feature of all IKE fruit and vegetable cutting machines is their excellent cutting quality. In addition, IKE food cutting machines are easy to use, easy to clean, versatile, hygienic and safe. All IKE food cutting machines are made of stainless steel and can be seamlessly integrated into fruit and vegetable production lines with our other food processing machines and packaging machines.
Applications include: round tuber crops and longitudinal root vegetables, such as, potatoes, sweet potatoes, beets, red beets, celeriacs, turnips, kohlrabis, carrots, cassavas, cucumbers, melons, bell peppers, etc. Leafy vegetables, such as, endive, cos lettuce, butterhead lettuce, curly endive, iceberg lattice, red chicory, rocket, spinach etc. Cabbage varieties, such as, basil, dill, coriander, mint, parsley, celery, thyme, watercress, etc. Fruit, such as, pineapples, apples, lemons, kiwis, limes, mangoes, etc.
Contact Us for a Free Consultation!